St0pnsw0p

Personal Information
Title

Enterprising Alchemist

Gender

Male

First Appearance
Battle Theme
st0pnsw0p is a player character in Attack on Lololo 4. He is a Level 4 Enterprising Alchemist, a Title he earned after the Resistance defeated Wave 5.
Biography
Edit
Besides the fact that he apparently trained in alchemy before joining the Resistance, nothing is known about st0pnsw0p's history.
Crafting History
Edit
Actions Within Game
Edit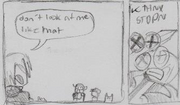 st0pnsw0p has served primarily as the go-to man for when a piece of equipment needs to be improved. His unique Alchemistic Skills serve the exact same purpose as the Alchemistic Seals, meaning that not only do his Skills improve equipment, but they conserve the use of highly useful items. 
St0pnsw0p is suspected to be a Time Lord, although so far he has refused to comment on such allegations.